Guided Waterfowl Hunts
In SW Idaho And Eastern oregon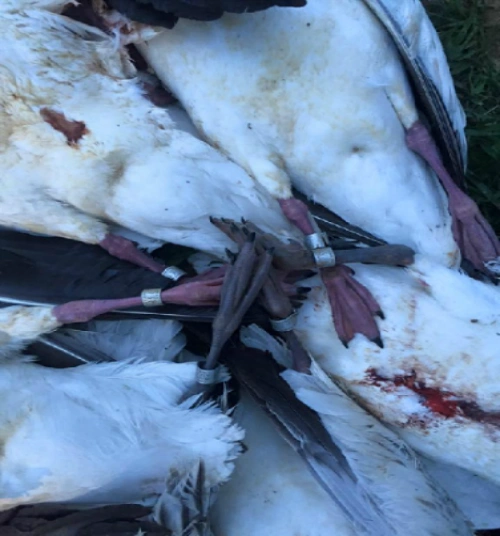 6 band day over decoys. BandCamp. Circa 2016



SW Idaho Duck and Goose hunts

Now Booking for 2021 Spring Specks & Snows

Current News
Now booking Fall 2020 Honker hunts! Also, Snow hunts from Feb 15- Mar 10, 2021. We book up to 7 shooters for Snows & Honkers
Call Jon today to book a hunt 208-941-5706



Book your Duck or Goose hunt Today!

Here's a few pics from last season:






We are currently booking hunts for the 2021 Spring Season


Call Jon for more info
208-941-5706



Got Snows??
Now booking for 2021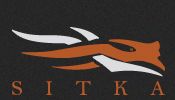 Pro Outfitter

FourFlyways.com offers guided duck & goose hunts right here in SW Idaho and Eastern Oregon. Our guided duck & honker hunts start in mid October.
Over the last few years, more and more Specks and Snows stage in our area on their migration north. With liberal limits of 10 specks and 20 snows per day, these birds keep us busy. We start hunting Specks on February 1st, & go full throttle on Snow geese starting 2/16 in SW Idaho.

We are located in the Snake river valley 40 minutes west of Boise, ID. Easy access from the Boise airport for our out of state guests who want to experience these hunts. We are proud to be a Pro Outfitter for Sitka as well.

Lodging: For all clients hunting the Marsing area, the Fairfield Inn & Suites® by Marriott in Nampa is the hotel we recommend. For all clients hunting the Parma area, the Best Western Plus in Caldwell is pet friendly.

Dining:There are many restaurants around the hotel. Including
TGI Fridays, Wingers, Sonic, Carl's Jr, McDonalds, Olive Garden, Panera Bread, Cracker Barrel, Texas Roadhouse, Red Robin, Golden Corral
and more.

Hunting Supplies: Sportsmans Warehouse is less than ½ mile away from the Fairfield Inn and has everything you could need for a day in the field.

3 day Non-resident licenses are available for purchase at $35.50.
Click HERE to purchase an Idaho License
You will also need a migratory bird permit and your Federal duck stamp.


Honkers- Here in SW Idaho, Honker hunting is what we do from opening day until the buzzer sounds on the last day of the season. We have some amazing fields that provide some up close and personal honker hunts. These fields have pit blinds or A frame blinds in them. We can take up to 7 hunters per morning depending on location.
All hunts end at 12:00 pm.
Goose Limit: 4 per person/day.




Ducks- Our guided duck hunts take place in flooded pastures, corn fields, natural sloughs, & flooded food plots on private property. Greenheads are king around here, with a good mix of Widgeon, Wood ducks and Pintails. Sit in the comfort of our custom made A-Frame blinds and watch the ducks work the decoys. We have room for up to 6 Hunters per morning depending on location. Minimum of 3. All hunts end at 12:00 pm.



Snow Geese: Morning or All Day hunts offered. We hunt staging birds as well as migrators late morning. Our fields are located right in the middle of multiple roosts. Decoying birds range from small flocks, to hundreds funneling down into the spread!
E-caller season is February 15th-March 10th. No plugs, and Magazine extensions ARE allowed during this time, so make sure to bring plenty of ammo just in case.
We run 100's, to thousands of decoys at a time. Multiple rotary machines, and more. We utilize custom pit blinds, A-frames, Dead Zone Layouts, and whites. These blinds keep the hunters out of sight of the approaching birds. We can accommodate up to 7 hunters on our snow goose hunts. All hunts end at 12:00 pm unless full day hunt is purchased or added on. Afternoon hunt is available for additional $180 per person(5 person minimum for afternoon)
Limit: 20 snows per person/day.





If Specks are what you're interested in chasing, you have come to the right place. This is a morning hunt over a spread of DSD full bodies. Specks are very vocal birds that sure are fun to watch work the decoys. Being the first fowl to push north, we usually start seeing large numbers of specks in the area starting in early February. These hunts take place in either a pit blind, A frame,or layout blind depending on location. Get your trophy bird right here in SW Idaho or Eastern Oregon Season ends on February 14th in Idaho, & goes until 3/10 in E. Oregon. All Speck hunts end at 12:00 pm.
Limit: 10 Specks per person/day.





One of our flooded food plots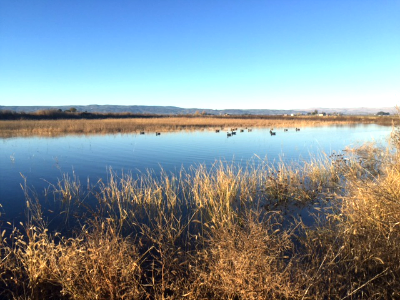 SW Idaho Guided Hunt Rates

Honkers- $320/each(morning hunt)
4 person minimum

Ducks- $320/each(morning hunt)
3 person minimum
Afternoon/evening corn field hunts- $300


Specks- $320/each(morning hunt)
Feb/March Only

Snows- $320/each(morning hunt)
Feb/March Only

prices are per person, per day
GRATUITIES are not included in the hunt price and are always appreciated


All Day Snow Goose Hunts
Don't miss the evening flight! Hunt Snow geese in the morning & afternoon.$500/each.


3-Day Spring Hunts
Traveling from out of state? Or just ready to hunt for multiple days? Book a 3-Day hunt to maximize your experience!
$900 for 3 consecutive morning Speck hunts
$900 for 3 consecutive morning Snow goose hunts
$1400 for 3 consecutive ALL DAY Snow Goose hunts*
*(5 man min for all day snows)
*prices are per person


Solo Hunters
We welcome solo hunters all the time. If you don't want to hunt with others, this is for you! Daily rate for ducks is $800, Honkers are $1000, Specks are $1500, Snows are $2000(morning hunt)
(per person, 1 shooter with own blind and guide)



*50% Non-refundable deposit required.
Limited space available.
*The hunt balance is to be paid onsite prior to hunt with CASH only-no exceptions.
*We make no guarantee of harvest, or bird activity. It's hunting, and we work hard to put our clients on birds.
*We reserve the right to cancel or re-schedule a hunt.


ALCOHOL IS ABSOLUTLY NOT ALLOWED IN THE FIELD AT ANY TIME DURING YOUR HUNT.
IF YOU SHOW UP DRUNK, OR ARE CAUGHT WITH ALCOHOL AT ANY TIME WHILE IN THE FIELD YOU WILL BE ASKED TO LEAVE.

We are required to add 6% Sales Tax to all hunts

Please contact Jon@fourflyways.com for more information and available dates







Eastern Oregon Goose Hunts

FourFlyways is a licensed Oregon outfitter that offers guided hunts for Specks & Snows in eastern Oregon. Starting in February, these birds begin to show up in huntable numbers.
The Oregon border is only 10 miles away from our base camp. Join us for a late season goose hunt in Malheur County. This is a combo hunt for Specks AND Snows!! Specks close in Idaho on 2/15, but they remain open in Oregon until 3/10.
Limit: 10 Specks, 20 Snows each, per day

3 day non-resident hunting license is $30.50, & the bird stamp validation is $41.50.
Buy these right here:
Oregon non resident license and stamp

These hunts take place from 2/15-3/10 in dry fields using A-Frame & Dead Zone layout blinds. We can take up to 5 hunters per morning. You will be hunting over a spread of Dave Smith full body Speck decoys. We also utilize custom speck calls to bring the birds in close.

Eastern Oregon Rates

$320 per person/per morning
4 person minimum


$100 deposit required per person. Limited space available.

Please contact Jon@fourflyways.com for more information and available dates